---
---
Welcome to Songster Records "Where The Music Becomes You"
---
---
Songster Records in association with Client Scout e-Entertainment Agency, and Wayne A. Cargill Agency are scouting the globe for 160 unknown, unsigned comedians, musicians, & singer / songwriters. If you are an unknown, unsigned comedian, musician, or singer / songwriter who possesses a demo, & wish to be famous, then submit your demo now.

Of the chosen top 160 submitted comedians, musicians, & singer / songwriters who are lucky enough to become Songster Recording Artists, over the next decade, we intend to create some 40 multimillionaires, and change the landscape of the music industry forever.
---
---
Digital Media Distribution Service For Radio Stations
DMDSFRS

---
---
---
---
---
---
---
---
---
---
---
---
---
---
SongsterRecords.com is a subdivision of Client Scout e-Entertainment Agency and is the perfect place to showcase your musical or comedic talent. We are currently accepting demos from unsigned, unknown independent artists from over 40 countries. Of the demos submitted, the top 10 unknown independent comedians and top 150 unknown, unsigned independent musical artists will be selected to fill 16 of Our genres. If your demo is chosen, your musical or comedic talents will be advertised, branded and marketed and distributed via download in .mp3, .m4a and .wma digital file formats in over 100 countries around the world powered by Wayne A. Cargill Agency, and our preexisting Digital Media Network with no up front fees or hidden charges to you.

If you think you have what it takes then send us your demo today! Who knows, you could become the next sensation to sweep the entire world. Audition right now for Songster Records
"Where The Music Becomes You"
---
---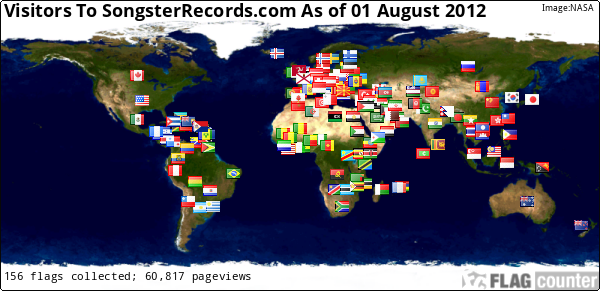 ---
---
This Website Is Dedicated To:

Cecile Antoinette Also Know As Pat
22 April, 1938 - 06 May, 2001
She dedicated her life to helping those whom were unable to help themselves. She may be gone, however, she will never be forgotten. She is loved and missed by all who knew her.
Donate To The Breast Cancer Society
BN / Registration Number: 137969861RR0001


---
---
---
---
---
---